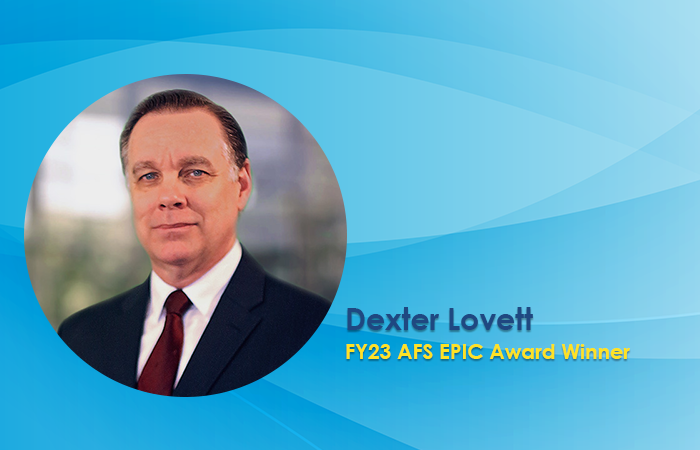 Dexter Lovett named AFS EPIC Award Winner for FY23
We are thrilled to announce Dexter Lovett as an honoree for the AFS EPIC awards in FY23! Managing Directors from each AFS portfolio and ASM Research were asked to nominate employees who made an extraordinary impact or contribution to our business and Dexter Lovett was selected from ASM.
The EPIC awards honor those who have made extraordinary contributions and impact during the fiscal year and who create change that matters for our clients, company, and people through innovations, collaboration, and drive.
Dexter was officially recognized along with AFS honorees during the AFS FY24 Directors Kick Off meeting on September 13th at The Kennedy Center in Washington, DC.
Dexter was a natural choice for this award because he demonstrates change that matters as a thought leader who effectively creates and executes long-term strategies. He was key in writing and winning the ARNG and the upcoming USAR credentialing and privileging deals. He was also integral in the development of the MEDCHART Joint Force profiling solution for the DoD – both as an SME and with prototyping. Dexter has been working with AFS to pursue this opportunity for the past three years.
Dexter joins previous winners of this award from ASM:
Congratulations, Dexter!