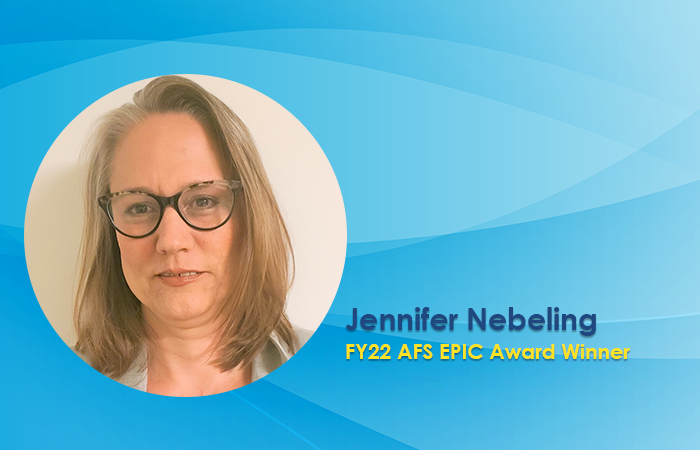 Jennifer Nebeling named AFS EPIC Award Winner for FY22
ASM Research is thrilled to announce Jennifer "Jenn" Nebeling has been selected as the FY22 EPIC award recipient for her extraordinary contributions and impact this year at ASM. The EPIC awards honor those who create change that matters for our clients, our company, and our people through their innovations, collaboration, and drive.
Managing Directors from each AFS portfolio and ASM Research were asked to nominate employees who made an extraordinary impact or contribution to our business and Jenn Nebeling, the Delivery Account Lead, Director – Operations & Delivery, was selected from ASM.
Jenn has been an integral part of the ASM team for more than 14 years, successfully supporting our clients both directly and indirectly. Jenn was nominated for this award because she inspires everyone with the energy and enthusiasm she brings to working with others and growing our business. She currently leads the ASM S&CS aligned delivery work and manages the workforce whose projects represent more than $59M a year. Jenn embodies our entrepreneurial spirit in her successful efforts to intelligently grow her team and the firm overall. Her leadership reflects the core principles upon which ASM and AFS are built. Jenn ensures her teams are prepared for success, trained, and recognized for their efforts. She is honest in all things while serving our clients with pride. She acts quickly, thoughtfully, and effectively with a focus on service to our client's mission while fully supporting our people. Jenn is always willing to reach across organizational lines and support other teams and programs and has been a critical support structure to many of her colleagues and friends.
The Epic awards were presented at the AFS FY23 Kick-off Managing Director meeting on Thursday, September 15th, and a $1,000 contribution was made to a charity selected by Jenn as part of this award.
Previous winners of this award from ASM include Brett Hughes in FY21, Nancy Sykora in FY20, and Justin Repoli in FY19.
Congratulations to Jenn Nebeling on her well-deserved EPIC award! We are pleased to recognize Jenn for her achievements during her career at ASM and during this past year.