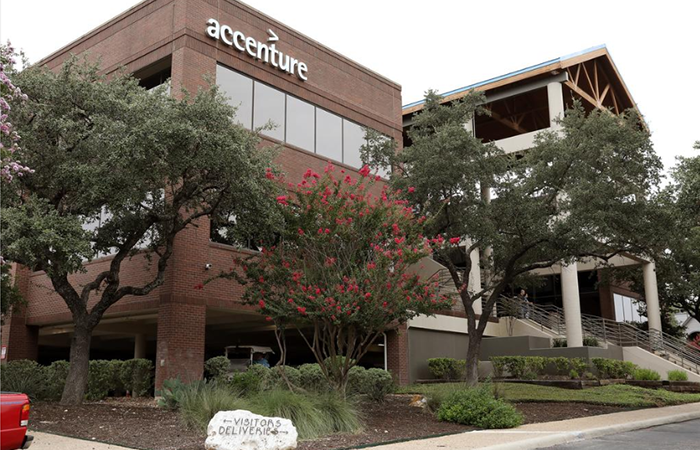 Accenture Federal Services Expands Advanced Technology Center in San Antonio
San Antonio Business Journal
February 28, 2019
Accenture to add 500 jobs in SA as EDF scores another win
W. Scott Bailey
Link to article
Accenture Federal Services plans to expand its San Antonio operations and add 500 new jobs here over the next four years.
Pending expected approval of local incentives, the new jobs will support the expansion of Accenture's Advanced Technology Center. Accenture currently employs more than 1,300 people in San Antonio. It plans to invest $5 million over the next four years as part of the expansion plan.
The San Antonio City Council will vote on an incentive package on March 7, and Bexar County commissioners are expected to consider a separate incentive package on March 12.
Jenna Saucedo-Herrera, president and CEO of the San Antonio Economic Development Foundation, a key player in the Accenture expansion talks, said this agreement ranks second only to USAA in terms of number of new jobs committed in recent years by a company with an established presence in the market. She said San Antonio EDF officials and other local stakeholders have been engaged in discussions with Accenture about an expansion for some time.
"Since Accenture has been here, we have worked to find a way to facilitate this type of growth," she said.
Ben Peavy, managing director for Accenture's San Antonio market operations, said city leaders made a strong case.
"This is a great opportunity for us," Peavy said. "We felt confident we could add these 500 jobs here."
Accenture Federal Services, which is a wholly owned subsidiary of Accenture LLP (NYSE: ACN), has operations in San Antonio and Arlington, Virginia. The company's work supports all cabinet-level departments and 30 of the largest federal organizations serving defense, intelligence, public safety, civilian and military health care entities.
Mayor Ron Nirenberg, who was also involved in recruiting more Accenture jobs, told me San Antonio provided a straightforward pitch.
"My role has been to ensure that companies like Accenture know we have a deliberate view of our future," he said. "Accenture is a smart business that understands the environment in San Antonio is conducive to their growth."
Peavy said Nirenberg's involvement was key.
"He showed his commitment to what we are doing in San Antonio — hiring veterans and underserved populations," Peavy said.
Saucedo-Herrera said talks with the company became more serious over the last couple of years, particularly in the last six months.
"This is a global brand, a recognized brand," she said. "They could have expanded anywhere. We were able to make the case for that expansion here."
Peavy cited the local military presence and the University of Texas at San Antonio's ascent in strategic areas, including cybersecurity, as factors that reinforced the company's decision to expand operations here.
"It just made a lot of sense to expand our relationships here," he said.
Local leaders believe the streak of wins reinforces that San Antonio's economic development game plan is stronger now as various stakeholders are working in unison.
"This has been about mission alignment. We are working toward the same goals, and this expansion with Accenture proves that," Nirenberg said. "This is an extraordinary win."